🇲🇾INKER Bluetooth Mechanical feel one handed LED gaming keyboard + mouse set
RM132.90
INKED GAMER BT keyboard+Mouse
🔫Suitable for PUBG, Call of Duty, Minecraft & Knives out
🔫Matching with mobile players and 100% wont get ban
🔫No Delay / Zero latency in game play
🔫Applicable for Android 4.4 or above
🔫Applicable for IOS 11 or above, below IOS 13.4
🔫We will provide a instruction video for you to setting the key after purchase.
🔫Auto Lowering rifle gun function, Using M416 without bounce up.
🔫We are professional Gamer and we choose the best product for gamers.
INKER bluetooth Keyboard + Mouse set Package include:
💣 Bluetooth LED keyboard – Power up by USB cable, using BT4.2 connect with ur phone, 1 USB slot for mouse. 1 USB slot for charging purpose.
💣 INKER Gaming mouse – Rainbow colour backlit 3000 DPI, 3speed gaming wire mouse.
💣 Mini Handphone Stand
💣 Micro USB cable
Advice from Professional Gamer:
👍🏻 Use with Redmi Airdots S – Low latency gaming, clear foot steps sound for easy identify enemy location. (coming soon)
👍🏻 Use with LED mouse pad – To avoid uneven table surface to make ur mouse mis-location & cool lighting
👍🏻 Use with handphone table mounting – Sit back and relax ur neck. for long hours gaming (coming soon)
👍🏻 Strongly suggest to follow my setting in the instruction Video we send to you. I using that setup to play from Platinum to ACE.
Other Features of INKER Bluetooth keyboard Set:
😍Trigger on/off ur mouse cursor by click mouse 3 button.
😍Preset F4 & F5 button to different gun lowering parameter to suit for M416 3x scope to M762 Horoscope.
😍Single button to trigger for multi click for MK14, MINI-14, M16A4, SKS, DBS, S12K, MK47, SLR & QBU.
😍1 time setting and save as default for next log in.
DO NOT buy if:
⚠️ Your Android processor is MTK, ASUS, GIONEE, Blackshark phone series
⚠️ Your IOS phone IOS Syetem version 13.4 or above.
SKU:

INKED GAMER BT keyboard+Mouse
Category: Gaming
Description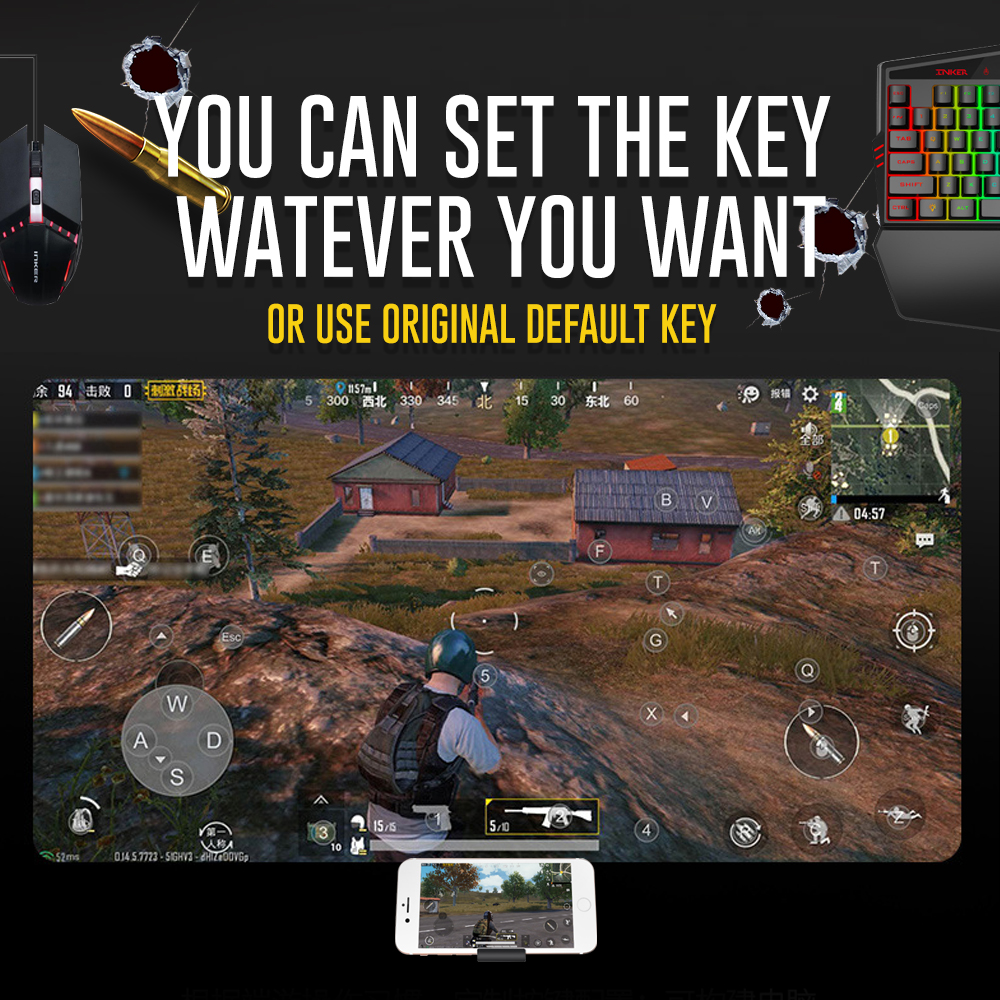 Additional information
| | |
| --- | --- |
| Weight | 0.5 kg |
| Dimensions | 29 × 29 × 6 cm |
Office Hours
Mo-Fr: 9:00-18:00
Sa: 9:00-13:00
Su: closed